Electrify America Audi Page
Power the potential of your fully electric Audi e-tron
Conquer the roads ahead with the benefits of an Audi charging bundle included with the purchase or lease of your new Audi e-tron®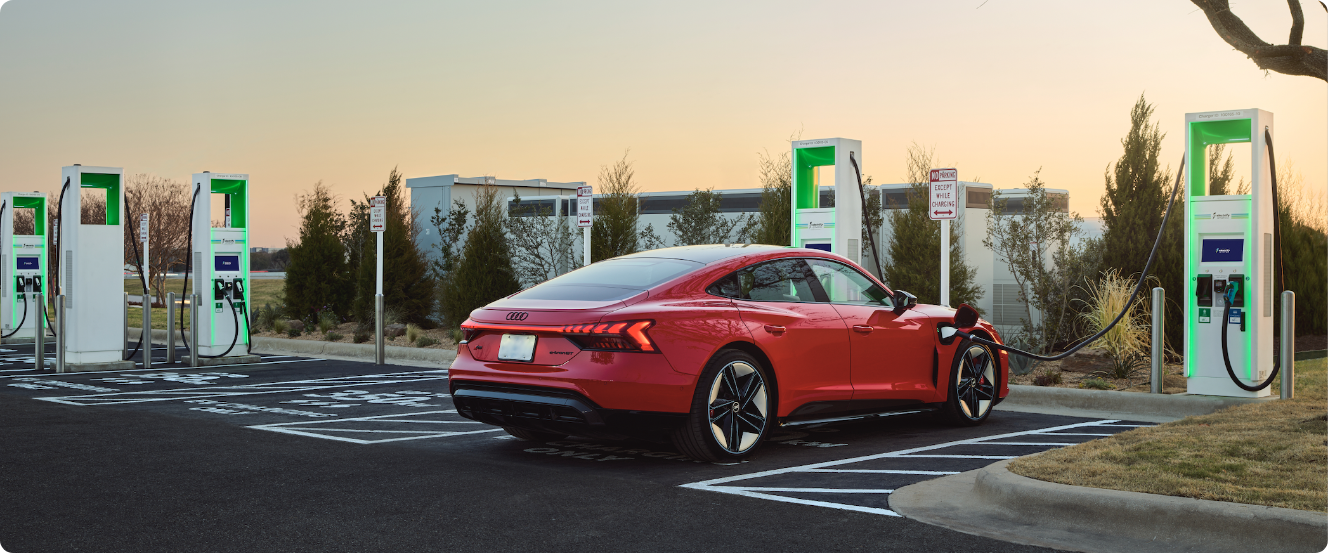 Evolve with Electrify America
Electrify America has constructed a convenient and reliable ultra-fast network of DC fast charging stations—located along many major highways and across the continental U.S. On the open roads, Electrify America helps get electric vehicle (EV) drivers where they want and need to go—because Audi electric vehicles are made for every journey and any adventure.
Audi charging bundles include:
With these benefits, Audi drivers can explore the full potential of electric freedom.
Locate a Charger
Go with freedom
Get on the road with the benefits included in your Audi charging plan on Electrify America's DC Fast Charging network.
Charging is simple. Just follow these steps:
Step 1: Locate an Electrify America charging station using the myAudi

App

or your Audi vehicle's MMI

touchscreen.

Step 2: Plug in your Audi vehicle.
Step 3: Open the myAudi App and enter the charging station ID to start your session.
Step 4: The myAudi App will notify you when your charge is complete.
Questions? Call 1-833-632-2778 to contact Electrify America Customer Assistance, available 24/7.
Locate a Charger
Charge from the comfort of your own home
Take advantage of Electrify America's comprehensive charging ecosystem with the HomeStation™. The Level 2 HomeStation offers up to 9.6kW of available power and can charge capable vehicles 6.8x faster than Level 1 chargers. With flexible installation options, you'll be able to select a package that suits your needs, and in collaboration with Qmerit we can connect you to a certified EV charger installer in your area.
Buy Now